It's that glorious time of year again…when we begin preparing for the Nun Run!
The 4th Annual Nun Run is quickly approaching, so…
MARK YOUR CALENDARS!  AND REGISTER NOW
Here's all the info and a link to the new www.desertnunrun.com
When: Saturday, March 9th, 2013
Where: Kiwanis Park, Tempe AZ
What: 10K, 5K, 1mile
PARISH PRIDE
Get a group from your local Parish together and see if you can win the Parish Pride Contest.  The Parish with the most registered participants will be acknowledged at the Awards Ceremony.  Be creative while you are at and come to the Run in your Parish colors, with signs or banners to show your Parish Pride.
SCHOOL CHALLENGE
Are you a student or faculty member of a local school or university?  Be sure to get a team together and see if you can win the School Challenge!  Schools with the most registered participants will be awarded the
CHAPLAINS' CHALLENGE
The Chaplain's Challenge is on again this year!  Fr. Lowry and Fr. Muir will be going head to head again!  We are hoping to get more Chaplains involved.  So encourage your Chaplains to take up the challenge!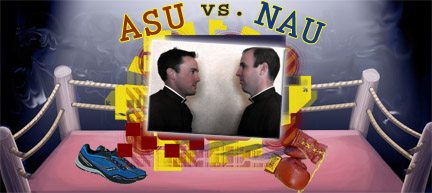 RUN WITH THE SAINTS
In this Year of Faith, we are asking runners to team up with a witness of faith and raise funds for the completion of the stained glass windows of Our Lady of Solitude Chapel.  Click here for more details!