The world is on fire.  Men try to condemn Christ once again. They would raze His Church to the ground. No, my sisters, this is no time to treat with God for things of little importance."  – St. Teresa of Jesus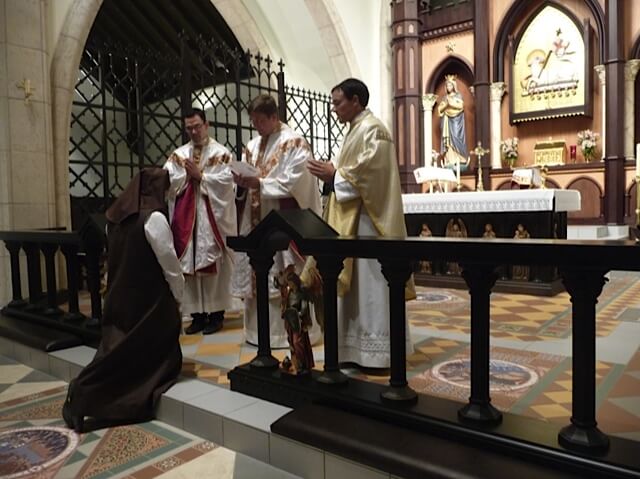 Tonight Sr. Tara Smith began her Postulancy with our Order.  It is appropriate that Sister begins this time of deeper discernment with our Community on the feast day of St. Teresa of Avila.  Earlier this year, Pope Benedict XVI put this great Saint forward as a model for the new evangelization:
The ultimate goal of Teresa's reform and the creation of new monasteries in a world lacking spiritual values was to protect apostolic work with prayer.  Today too, as in the sixteenth century, in the midst of rapid transformation, it is important that trusting prayer be the heart of the apostolate, so that the redeeming message of Jesus Christ may sound out clearly and dynamically."
What Sr. Tara began tonight is the first step in a great journey of Faith.  She continues to discern God's Will for her life.  She does this very simply by living a hidden life.  This life of prayer and adoration is so deeply connected to the new evangelization . It is at the very heart of it…at the very source of Living Water.  She begins live her new role in the Church as a contemplative charged with a great responsibility…to protect apostolic work with prayer.  This mission will be accomplished in a manner very counter-cultural.  It will be accomplished without being weighed in the scale of productivity.  It will be accomplished in the truest reality…in the deepest core of the heart.  And it will be fecund.  The fruitfulness of a contemplative is hidden, even from herself.  The one goal is not to weigh/measure personal success but to be absorbed and hidden in the merciful Heart of our Savior.  Our one goal is that HIS REDEEMING MESSAGE may sound out clearly and dynamically. It's this hidden evangelization that energizes Sr. Tara…and ultimately it is this that led her here.  It's what gave her the courage to say, according to the formula for entrance: "I desire to begin the time of discernment — the time of listening to God as He speaks in and through the Community. I ask for your prayers that I may spend the rest of my life in His Eucharistic Presence and prepare my soul for the great day of union between bride and Bridegroom."
[slideshow_deploy id=2702]
What Sr. Tara begins today is a joy-filled journey of faith (appropriately so, it begins in step with the Year of Faith).  It is the beginning of a wonderful transformation, only accomplished by Christ, to one who freely embraces His Will and His Love.
At the conclusion of the brief Entrance Ceremony, our Superior (Sr. Marie Andre) summed it up perfectly in few simple words: ENTER INTO THE JOY OF THE LORD!