Spring in the desert has been beautiful, blessed, and busy!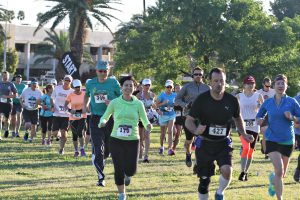 Things started getting busy with the Nun Run and are only now beginning to slow down!  Speaking of the Nun Run, we recently uploaded about 50 photos – more will be added over the next few days.  Check them out!  With over 900 participants, it was another successful Nun Run – and filled with Year of Mercy graces.  About 3 priests heard confessions – continually – throughout the entire event.  RUN TO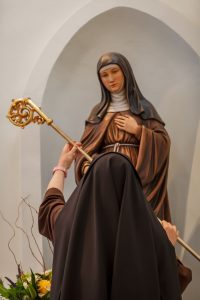 MERCY!  All those penitents won that race…  Our congrats to all those who took home plaques, medals, and to all who participated and enjoyed the day.  See you next year!
Just 2 weeks after the Nun Run, our community received a great grace in the Installation and Abbatial Blessing of Mother Marie Andre.  On March 19, 2016, Solemnity of St. Joseph, Mother Marie Andre officially was installed as our first Abbess.  For all the details about the JOY-FILLED occasion, to read the Bishop's excellent homily, and view a large album of photos, please click here! We continue to give thanks to the Lord for Mother Marie Andre and the gift of our autonomy.  We are at the beginning of a new chapter in the history of our community – and it is wonderful to behold 🙂
The very next day after the installation was Palm Sunday.  We had a blessed Holy Week and Triduum, culminating in the celebration of Easter Sunday.  It was right before Vespers on Easter Sunday when we learned of the passing of Mother Angelica…on the very day that Jesus triumphed over death.  (Be sure to check out our other post
about Mother's passing) As Pope Emeritus Benedict XVI stated – being called to the Lord on Easter Sunday is indeed 'a gift.'  We grieve her passing, but trust that she continues to exercise her spiritual maternity over our community and all of her spiritual children.
Spring has sprung here in the desert, and we know that the blazing summer heat will not stay away for long.  We've enjoyed the wildflowers, baby birds, flowering cacti, and FINALLY even a Spring storm, complete with a the BRIGHTEST double rainbow we've ever seen.