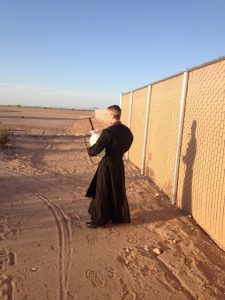 For many years now we've been blessed in our friendship with Fr. Jim Parker from the diocese of Rockford, IL.  Though, due to his responsibilities as Pastor, he can't make it out to see us as often as we'd like, we enjoy his visits immensely when he can squeeze in a trip to the desert.  And during his time here, we put him to work.  He is a Pray-er Extraordinaire and a Bless-er Extraordinaire!  Early in the morning, so as to avoid the mid-day heat, he and Sr. Marie Andre walked around the perimeter of the fence – with Father Parker hard at work with over a gallon of Holy Water, blessing the nearly mile-long fence.
Other blessings abound as well!  As our new Postulant, Jennifer, settles in, we happily received Tonya into candidacy just one week later.  It's been busy!  Candidacy is a 3 month live-in experience that follows Aspirancy and the application process.  Living within the Monastery, Tonya will take part in our life of Adoration, as well as joining the Sisters for formation lessons, Divine Office, and monastic work and recreation.  This immersion live-in experience gives the candidate an opportunity to further discern and assess both her call to contemplative life and to this particular community. Candidacy also provides an opportunity for the community to get to know the candidate and thus assist in the discernment process.  So please keep Tonya in your prayers during this time of candidacy, prayer, and discernment.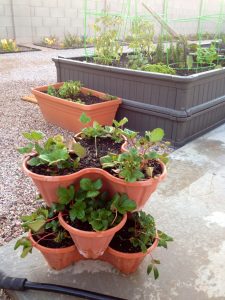 And lastly, not only is the Lord bearing fruit in our little Community, but even in our littler garden! For the first time I am trying my hand at growing strawberries – so far so good! We also put in a community favorite:  Japanese eggplant!  A few tomato plants and a variety of herbs finish off our little Summer garden.  Already we are scheming about putting in a larger one in the Fall.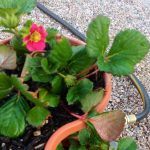 We are open to suggestions of good veggies that grow well in the desert (as well as the best time to put the plants)!
Watching these strawberries mature from bloom to ripe fruit is pretty awesome.  And each day brings more little berries. Truly blessings abound!
Let everything in creation draw you to God. Refresh your mind with some innocent recreation and needful rest, if it were only to saunter through the garden or the fields, listening to the sermon preached by the flowers, the trees, the meadows, the sun, the sky, and the whole universe. You will find that they exhort you to love and praise God; that they excite you to extol the greatness of the Sovereign Architect Who has given them their being.'

St. Paul of the Cross