"What a great laudable exchange:
to leave the things of time for those of eternity,
to choose the things of heaven for the goods of earth,
to receive the hundred-fold in place of one,
and to possess a blessed and eternal life."
– St. Clare of Assisi
It is time to celebrate Our Holy Mother St. Clare of Assisi!
We invite all of you to join us as we begin the Novena in her honor on August 2nd.
Click here to download a Novena to Saint Clare  Also, if you would like the Nuns to pray for you throughout the Novena, please be sure to fill out the form below so as to send us your petitions.
Please join us as well on:
Thursday, August 10th

@

5 p.m.

– Transitus of St. Clare of Assisi with Vespers and Veneration of her 1st Class Relic

Friday, August 11th @ 9 a.m. – Holy Mass for the Solemnity of St. Clare of Assisi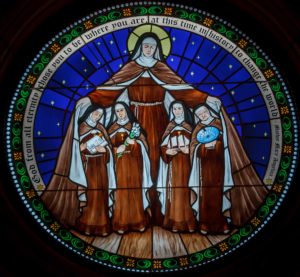 "Love Him totally, who gave Himself totally for your love."
Please fill out the form below if you would like the Nuns to remember your intentions in the Novena to St. Clare:
St. Clare Novena
Prayer Request Form
"*" indicates required fields