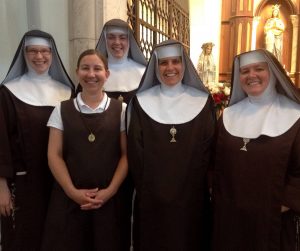 Today we had the great joy of welcoming Jennifer to our community.  Having completed a 3 month candidacy earlier this year, she begins Postulancy today.  Enjoy a few pics from the simple entrance ceremony that took place after Mass.  (Click on the pic to view
them larger).
Postulancy denotes a preliminary period before entering the novitiate of our Order.  Postulancy is derived from the Latin word "postulare" which literally means "to ask".  During this time, the postulant deepens her understanding of the Catholic faith and learns something of our Poor Clare way of life, our history and spirituality. Also during this time, she learns how to adapt to this new way of life, as she continues to discern her vocation.  The duration of postulancy is typically one year, then the postulant may petition the Community to be admitted to the novitiate.
Keep Jennifer in your prayers as she takes this first big step toward embracing the religious life, as she is immersed in our life of Eucharist Adoration, prayer, and communal Gospel living…for the sake of our Beloved and His Church!
"O Jesus, deign to open Your Loving Heart to me too, and permit me to take refuge in it, so that I may live hidden in God with You." – from Divine Intimacy