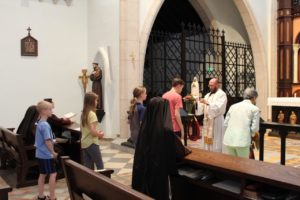 Today is the beautiful Solemnity of Our Holy Mother Clare. The celebration here began last night with the Transitus – as we prayed Vespers, read aloud the account of her passage from this life to the next, prayed her Litany and venerated her 1st class relic (2 small pieces of her hair).
This morning the celebration continued with Holy Mass.  Because Poor Clares celebrate St. Clare as a Solemnity, we have special readings at Mass. They are as follows:
Hosea 2:16, 17, 21-22
Psalm 45:11-12, 14-16
2 Corinthians 4:6-10, 16-18
John 15:4-10
We'd like to share with you a portion of Fr. Anthony's moving homily. We hope you enjoy it as much as we did:
---
"How appropriate is our first reading from the Book of the prophet Hosea, on this Solemnity of St. Clare, for all of you Poor Clares, being her spiritual daughters: The Divine Bridegroom has espoused you to Himself and allured you here, literally, into the physical desert where He continually speaks to your heart in the silence of solitude and through creation.
St. Francis clearly saw the hand of the Lord in His created nature. Far away from all human structures you behold God's handiwork in all His creatures: those that crawl, slither, hop, walk on all fours, and those that fly.
You witness the power of God in storms and lightening, in mighty winds and monsoons, and huge clouds of moving walls of sand. In the sunrise and the sunset, He pledges His love to you. He says, I love you.
The language that the Bridegroom uses to speak to you is Love, Divine Love. God is love and He doesn't speak in any other language. And so, that is how we must communicate with Him, in the language of love – a language that can only be heard and understood clearly by those with a pure heart.
Like St. Clare, the Poor Clares are called to NOT fix your gaze on what can be seen with human eyes, but on what is unseen. As St. Paul said in our 2nd reading, "What is seen is transitory, what is unseen lasts forever." We fix our gaze on that which is beyond the mere physical; we fix our gaze on the One that is the Cause of all that is."
---
The remainder of the homily was equally as moving, recounting St. Clare's life, sufferings, love, strength, and legacy.  But the few paragraphs that I shared above were particularly striking as the idea of GAZING is very Clarian.
In a most moving passage to St. Agnes of Prague in the 4th letter, Clare says:
"Gaze upon him, consider him, contemplate him, as you desire to imitate him."
In that same letter, she eloquently states:
"Because the vision of Christ is the splendor of eternal glory, the radiance of eternal light and the mirror without stain, gaze upon that mirror each day, O queen and spouse of Jesus Christ, and continually study your countenance within it, so that you may clothe yourself inside and out with beautiful robes and cover yourself with the flowers and garments of all the virtues, as becomes the daughter and most chaste bride of the Most High King. Indeed blessed poverty, holy humility, and ineffable charity are reflected in that mirror, and, with the grace of God, you can contemplate them throughout the entire mirror."
Pope St. John Paul II in his letter for the 8th centenary of her birth wrote thus:
"Her writings are so marked by the love stirred up in her by her loving, prolonged gazing upon Christ the Lord that it is not easy to express what only a woman's heart could experience.  Clare's contemplative journey, which will culminate in her vision of the "King of glory" (Proc IV, 19), begins precisely in her total abandonment to the Spirit of the Lord, in the same way as Mary did at the annunciation: that is to say, it begins with that spirit of poverty (cf. Lk 1:48) which empties her of everything but the simplicity of a gaze fixed on God."
Let us pray today, through her intercession, that we may share in the simplicity and surrender of a gaze fixed on God.
Sancta Mater Clara, Ora Pro Nobis