Many moons ago, ASU students visited for day of discernment and prayer. I was able to make them a home-cooked lunch…namely Pumpkin Mac-n-Cheese. However, by the time they were ready for lunch, it had been sitting in the oven for quite some time and looked miserably dried out.
But you gotta love college kids! True to form, these hungry students – so longing for a home-cooked meal – they ate it all up with much gratitude and joy! One of the students – a freshman or sophomore at the time – asked for the recipe. To put this into context as to just how long it has taken me to get her the recipe: she is married and has 2 children. I hope it was worth the wait, mon amie Amy! 🙂
Mon Amie Pumpkin Mac-n-Chee
Ingredients
1 package elbow macaroni (this time I used red lentil rotini…and it was quite yummy and added lots of protein)
1/4 c. butter (this time I did 1/8 c. butter and 1/8 c coconut oil and it worked just fine)
1/4 c. flour
1 onion, diced
2 c. milk
2 c. shredded cheese (I like to use a combo of sharp cheddar and swiss…definitely use at least 1 c. swiss)
1 c. pumpkin
Salt and Pepper to taste
Cayenne pepper to taste
1/2 tsp each of thyme, sage, and marjoram (or more if you like real 'herby'). A touch of nutmeg and cinnamon are also a good option.
Handful of panko bread crumbs and another handful of grated cheese.
Directions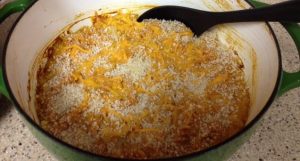 Preheat oven to 350 degrees.
Cook macaroni (al dente) according to package directions. Drain and rinse with cold water.
While the pasta is cooking, in a deep frying pan over medium heat up the butter until sizzling. Add the onions and cook until transparent. Then whisk in the flour until it is fully incorporated. Slowly add the milk, whisking so that it doesn't clump. Once it heats up and begins to thicken, stir in the cheese (don't use a whisk unless you want a mess!). Once it is melted stir in the pumpkin. Add salt, pepper, cayenne, and herbs. Taste testing helps here…so that you know how much of these seasonings to add…or if you might need some extra cheese 🙂
Combine the pasta and cheese sauce. Then put it in a greased casserole dish. Put another handful or so of cheese on top as well as a light covering of panko breadcrumbs. If you want the crumbs to brown nicely, spray with an olive oil mist. Place the casserole uncovered into the preheated oven for about 20-30 minutes until it is bubbly on the sides and the top is crisp and brown. Enjoy!
Beans and Greens
Ingredients
2 TBSP Olive Oil
2 Garlic Cloves
1 Onion, Chopped
3 Bunches of assorted fresh greens (I used Italian Kale, Swiss Chard, and Beet Greens)
1/2 c. Vegetable Stock
1 can of black eyed peas, drained
Tabasco Sauce
Salt and Pepper to taste
Directions
In a deep pot or a wok, saute onion and garlic in olive oil until soft. Add the chopped greens and Vegetable Stock. Once the greens shrink down and cook a bit, add the black eyed peas, Tabasco Sauce and salt and pepper. Simmer for about 20 minutes.
Stewed Tomatoes
(no recipe…just open a can of stewed tomatoes and heat up! So good with Mac-and Cheese)