Several folks have asked me for some good, healthy meatless meal ideas from the Monastery for Lent this year! When it comes to eating meatless, we've got a wealth of recipe ideas – as we abstain from meat for the whole of Lent and Advent, as well as Mondays, Wednesdays, Fridays, and Saturdays the rest of the year. So this is a little "Lenten Alms" 🙂 – so to speak… To share with those who are "poor" in meatless recipes from some of our abundance!
---
Keepin' it simple!
One-Eyed Sailor Eggs, Strawberry Salad, and Steamed Green Beans
ONE-EYED SAILOR EGGS
Let's start with the eggs. I learned this recipe in 7th grade home economics – it was also the class where I sewed myself a most pathetic pair of shorts! So I soon abandoned sewing, but stuck with cooking…mostly out of obedience (as I have been assigned as the Monastery cook for more years than I care to remember)! But, thanks be to God, I've grown to love cooking for my community (perhaps it is part of my own unique expression of the feminine genius and an expression of spiritual motherhood as well!).
Ingredients:
4 Eggs
4 Pieces of Bread
about 2 TBSP Butter or Coconut Oil or Mayo
salt and pepper

How To:
With a small round cooker cutter, biscuit cutter, or (what I use) the top of a small glass, make a hole in the center of the bread and remove the inner circle. Butter (or use coconut oil or mayo) both sides of the bread and both sides of the circle. Place bread in a nonstick or greased frying pan or flat griddle on the stove. Crack an egg onto the bread, so that the yoke is in the hole. Sprinkle with salt and pepper. Turn the heat up to medium. Once the bread is lightly toasted and the egg starts to set (about 2-3 min.), flip over and continue cooking the other side until set, but the yoke is still runny. The "inner circles" can be placed on the griddle as well to be toasted and used for dipping.
STRAWBERRY, EDAMAME, WHITE BEAN SALAD
There is nothing like a nice beany & nutty salad to add protein and deliciousness (that's a word!) to a meatless meal. I hope you enjoy this one!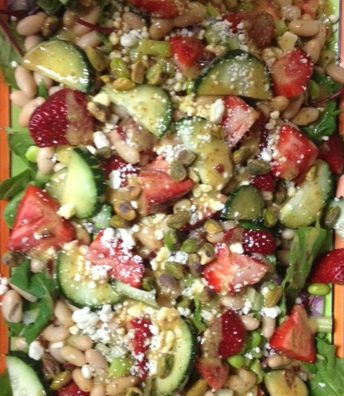 Salad Ingredients
1 c Frozen Shelled Edamame (Cook according to package instructions. Rinse to cool. Dry on a towel so they don't make salad soggy )
1/2 can Cannellini Beans (rinsed, drained. Dry on towel so they don't make salad soggy)
3 c. Fresh Strawberries (quartered)
3 stalks chopped celery
1 sliced cucumber (to make it look fancy is not so fancy afterall. All you have to do is firmly drag fork vertically up and down cucumber…through the skin…, then slice. Takes 20 seconds but looks so nice!)
1/8 c. diced Red Onion
6 c. Spinach or Mixed Greens
1/2 c. Feta Cheese (optional)
1/4 c. de-shelled Pistachios (or cashews or roasted slivered almonds)
After assembling the salad and just before serving, pour salad dressing over top then sprinkle with Feta Cheese and Pistachios.
Salad Dressing Ingredients
1/4 c. Olive Oil
1/4 c. Apple Cider Vinegar
1 TBSP. Dijon Mustard
2 TBSP. Honey
1/4 tsp. salt
Place all ingredients in blender. This dressing will be tangy. If you're not a fan of serious tangyness, either add more oil or use less vinegar! Or use red wine vinegar for a milder flavor.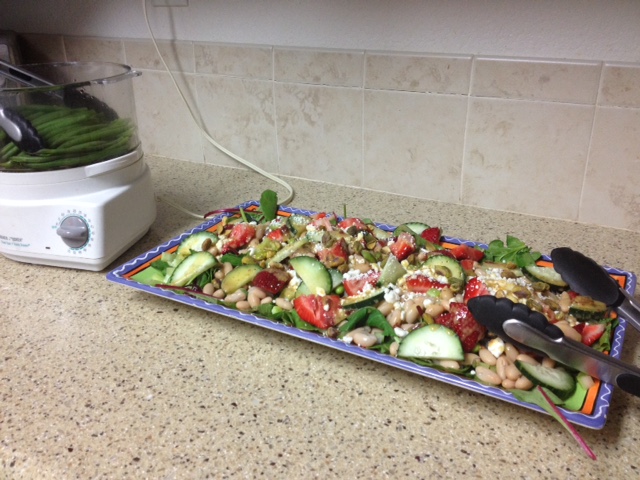 STEAMED GREEN BEANS
We have a big bag of the French green beans from Costco in the fridge. Love those things. No snipping or cutting required! I just toss them in our steamer for a few minutes until they are tender crisp. Voila!