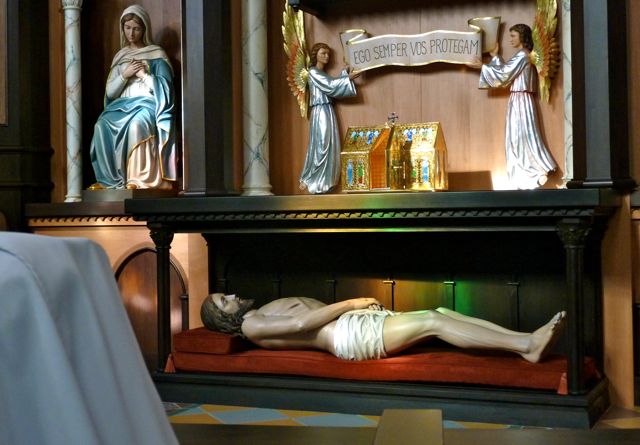 Today is the patronal feast day of our Monastery, as Our Lady of Solitude is "Our Lady of Holy Saturday".  Our patronal feast day is spent quietly, unlike other celebratory days…because today is different.  As Melito of Sardis said in today's Office of Readings:
Something strange is happening – there is a great silence on earth today, a great silence and stillness. The whole earth keeps silence because the King is asleep."
Today is not like other days.  It is filled, quite poignantly and uniquely, with solitude and silence, with memory and hope.  On Holy Saturday, Our Lady of Solitude stands as a beacon of hope and a tower of strength.  With her and with the whole Church, we wait in silence and stillness.
Today, through the example of Our Blessed Mother, we learn what it means to be guardians of memory.  In a trust-filled solitude, Mary pondered in her heart the Word of God, the memory of her Son, the promises and prophesies.  In an attentive silence, she dwelt in hope, in a hope that was stronger than death.  In this she teaches us how to truly be contemplatives.  Flowing from her 'living water' of memory came welling up within her the strength to remain standing at the Foot of the Cross and to remain filled with hope during that first long, painful Holy Saturday.  She kept all these things things in her heart, pondering them as a Guardian of Memory:
Being guardians of memory means more than remembering and treasuring the graces of the past; it also means drawing from them the spiritual resources to confront with vision and determination the hopes, the promise and the challenges of the future."- Pope Francis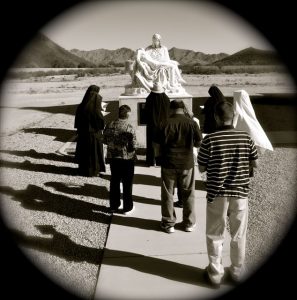 Through the devastating darkness of Good Friday and the quiet longing of Holy Saturday, Our Lady (the perfect Guardian of Memory) continued to ponder, to contemplate, and to dwell in the security of one who knows the mercy and love of God.  She dared to hope, when everyone else had extinguished their lamps.  And her light was burning brightly when her Son rose from the dead.  May it be so with us…
Our Lady of Solitude, pray for us and form us into true contemplatives like you.