With high praise and thanksgiving to Almighty God, we are happy to share with you that on December 12, 2016, Feast of Our Lady of Guadalupe, Sr. John-Mark Maria became a perpetually professed Poor Clare of Perpetual Adoration.
Our much beloved Bishop Olmsted celebrated the Mass of Profession along with Bishop Nevares and over a dozen priest friends of our community *including Sister's pastor from Little Flower Parish in Hartville OH. We were also blessed to be joined by a large number of Sr. John-Mark's friends and family from around the country (mainly the great State of Ohio). The Church was full to overflowing with many who came from around the Diocese to join us in celebrating this great day.
Sr. John-Mark's journey with us began back in 2009 and came to fruition yesterday as she gave her YES to a lifelong commitment of love to the Lord in our community, as a perpetual adorer of the Most Blessed Sacrament, as an intercessor, as an extern Sister, as a contemplative with a heart wide enough to carry the entire world…as a Bride of Jesus Christ, committed to offering Him the sacrifice of praise all the days of her life…truly it is a commitment that reaches beyond the bounds of this life into eternity. This is evidenced in the ceremonial itself when, in the Solemn Blessing of the Newly Professed, the Bishop prays:
Lord, Holy Father, guide and protect our Sister in all her ways.
And when she comes at last before the throne of grace,
may she not hear in fear the voice of her dread judge,
but rather may she hear with joy the voice of Christ,
her Bridegroom calling her to the
Wedding Feast of Heaven.
The entire Rite of Perpetual Profession is poignantly beautiful. Perhaps the most touching part, though, is the sequence of events that follows the Litany of the Saints – when Sister professes her Vows, receives her Profession Ring, then makes the following declaration:
Behold, what I have desired, I now see;
what I have hoped for, I now possess.
I am joined to Him in Heaven,
Whom I have loved on earth with my whole heart.
I am espoused to Him Whom the Angels serve,
Whose beauty the sun and moon admire.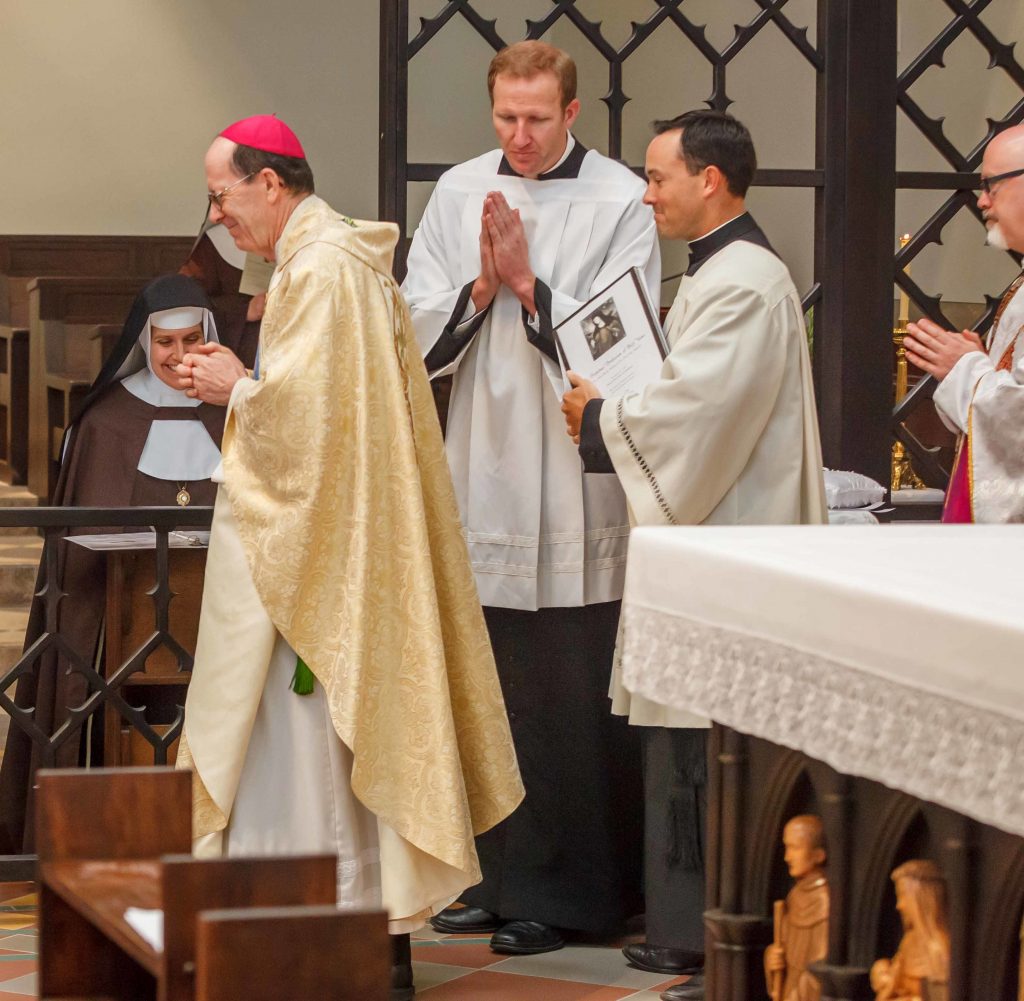 Sr. John-Mark did so without any quivering in her voice, though I'd guess that the rest of the congregation (me included) was choking back tears! She did so as one who knew the truth of the words, as one who had experienced to the very core of her being the strength of the Bridegroom's love. She said it as one who is accustomed to beholding and longing for His beauty, as one who is convinced that nothing on this earth (save Him alone) can satisfy her heart. She said it with humility and conviction. The Sisters and I were behind her for the whole of the ceremony – having just now taken a look at the photos, I am struck by the peace and JOY that radiated from her countenance…that beautiful smile must not have left her face for the whole of the 2 hour Mass!
It's my hope to put together a video of all the photos. Truly they are stunning…and we have our dear friend and photographer John Bering to thank for that. Kudos John! But as we catch up on all that got behind with all the Profession preparations, it may be a little bit before we find the time to put that video together for you all. And so, until then, we hope you enjoy this sneak peek of the photos. Click on any of the thumbnails below to see the full sized photo.
Please join us as we give thanks to Almighty God for the gift of this our Sister!