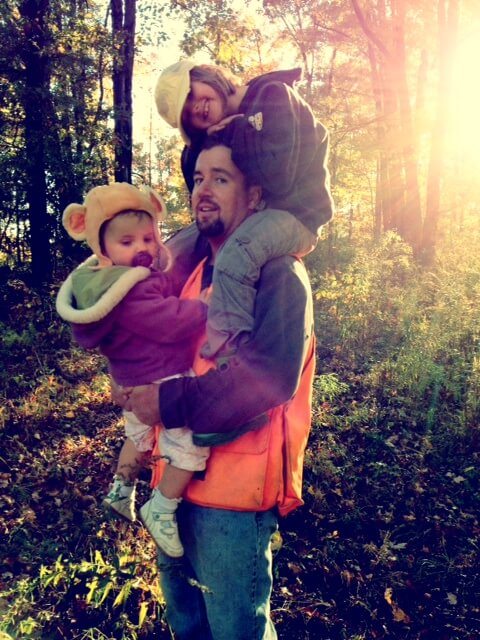 I grew up in the pre-cell phone era, when we never quite knew when my dad was going to get home from work.  When did he leave the office, how was the city traffic, etc. etc.?  these were questions I asked each and every night!   I would watch the clock and listen attentively for the sound of his car pulling into our gravel driveway.  Ah!…the great excitement each and every weeknight when he would finally arrive: "HE'S HOME!", I would announce to my mom and brother with such glee!
I see this same glee in the eyes of my nieces as they interact with my brother, their daddy.   It's beautiful to see their excitement to spend time with him – regardless of what they are doing!  A walk in the woods, feeding the goats, taking care of the chickens, riding on the tractor as he mows the lawn…as long as they are with dad then all is right with the world.
Recently my six year old niece and I were playing the "What if" game.  And she asked me, "What if you got to punish my daddy, what punishment would you give him?"  Trying to think like a six year old (and trying to make her laugh!), I said: "I would make him play dolls with me."  Without batting an eyelash, she said with utter sincerity: "But my daddy likes to play dolls."  I couldn't help but chuckle.  I looked over at my macho brother who – growing up – would have sooner been sent to bed without dinner as to play dolls with me.  He just smiled and shrugged his shoulders.  What wouldn't this daddy do to make that girl of his happy? Fathers and daughters!  – it's beautiful to see.
Recently Fr. Mariusz, CFR (and his delightful assistant, Br. Angelus), came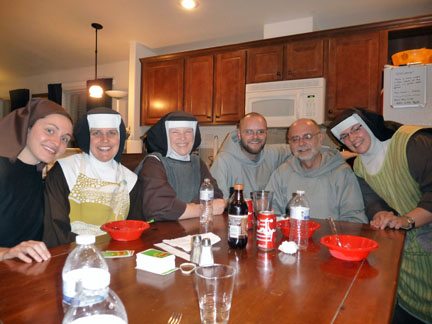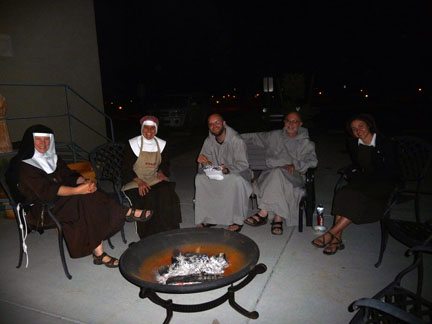 to visit us, as they made their annual retreat here at Our Lady of Solitude.  Father Mariusz is much loved by all the Sisters, as several years ago he gave us our communal retreat.  Ever since that time, he has been a constant friend and kind father to our community.  He is a wonderful example of the beauty and strength of spiritual fatherhood.
As I waited for him to arrive last week, looking out the window, I felt like that same little girl waiting to hear the tires hit the gravel!  "HE'S HERE!", I announced to the Sisters with great joy!
Whether it is regarding our natural fathers or our spiritual fathers, there is a great security that comes when we rest in their love.  It is a glimpse of course of the love of our Eternal Father.  We sing a hymn, one of my favorites, that states: "FATHER: the sweetest dearest name that men or angels know!"  And isn't that the truth!  Sadly, in our culture today with its crisis of fatherhood, the beauty of "Father" is so grossly misunderstood.
Pope Benedict affirms this truth in the following words:
"Perhaps modern man does not perceive the beauty, grandeur and profound consolation contained in the word 'father' with which we can turn to God in prayer, because the father figure is often not sufficiently present in today's world, and is often not a sufficiently positive presence in everyday life.  But from Jesus himself, by his filial relationship with God, we learn the true significance of the word 'father', and what is the true nature of the Father who is in heaven."
When we learn that we have a Father, a Father Who loves us and provides for us, and will never abandon us, then everything changes and we can truly be trusting children of so great a Father.
Pope Benedict continues saying:
"When we turn to our Father in the privacy of our rooms, in silence and recollection, we are never alone.  Paul teaches us that Christian prayer is not simply our own work, but primarily that of the Spirit, who cries out in us and with us to the Father. In our prayer, we enter into the love of the indwelling Trinity as living members of Christ's Body, the Church. Our individual prayer is always part of the great symphony of the Church's prayer. Let us open our hearts ever more fully to the working of the Spirit within us, so that our prayer may lead us to greater trust in the Father and conformity to Jesus, his Son."
Let us pray for a renewal of authentic fatherhood.  Let us pray that we will come to know very personally the love of Our Father.  And that we will truly be His children…so that when we are united with Our Father in Heaven, then all will be right with the world!
D
Wikipedia: D is the fourth letter in the basic modern Latin alphabet. →