Join Us for May Crowning
O Mary! we crown thee with blossoms today Queen of the Angels, Queen of the May O Mary! we crown thee with blossoms today Queen of the Angels, Queen of the May! Join us for the May Crowning at Our Lady of Solitude Chapel on Sunday, May 3rd after the 10 a.m. Mass.  All children under 15 are welcome to bring a flower for Our Lady. After Mass, the children... [Read more...]
Let Humility be Bold
Blessed Solemnity of the Annunciation!  Below is an excerpt from St. Bernard's homily in Praise of Our Lady!  I enjoy reading this each year, in order to stand once more in that very moment when Our Lady spoke her Fiat and the Word was made Flesh!  And from her Yes…flows every other YES! You have heard, O Virgin, that you will conceive... [Read more...]
Am I not the source of your joy?
    Are you not under my shadow and protection? Am I not the source of your joy?" – Our Lady to Juan Diego Today we celebrate the Feast of Our Lady of Guadalupe.  She is the Protectress of the Americas and the Unborn, and the Patroness of the Diocese of Phoenix.  She is our Mother and the Cause of our Joy. Our community gives... [Read more...]
Enter into the Joy of the Lord
Today we had the great joy of welcoming Jennifer to our community.  Having completed a 3 month candidacy earlier this year, she begins Postulancy today.  Enjoy a few pics from the simple entrance ceremony that took place after Mass.  (Click on the pic to view them larger). Postulancy denotes a preliminary period before entering the novitiate of our... [Read more...]
Spring Photo Update
To catch you up with some of the goings on here at Our Lady of Solitude, enjoy a few Easter photos. Also below them you will find a slideshow of May Crowning photos from May 11th! It was a beautiful day, honoring Our Lady with a crowning, songs, and an act of consecration – as well as gratefully remembering our natural mothers on the celebration... [Read more...]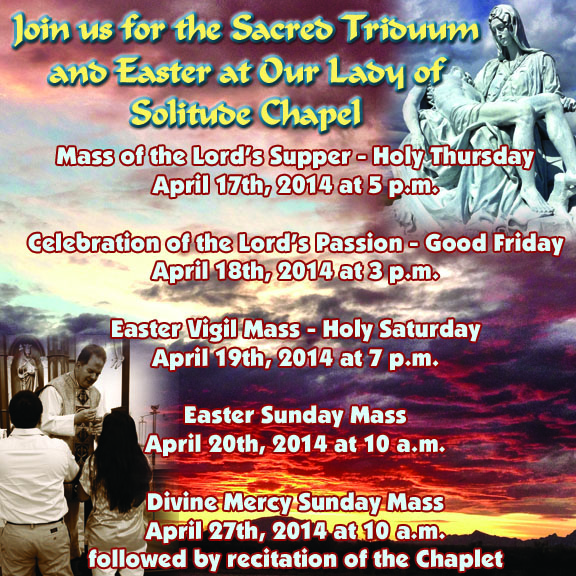 Please join us…
Also, please save the date for the following events: May Crowning at Our Lady of Solitude after Mass on Sunday, May 11th at 10 a.m. All children under 15 are welcome to bring a flower for Our Lady. After Mass, the children will process up to the statue of Mary with their flowers. Our Lady will then be crowned. Solemnity of Corpus Christi on Sunday... [Read more...]
A Woman's Work
We received a comment on a former post asking for our thoughts on what a woman's role is to be in the Church.  In particular, how a woman can be more active in the Church.  I can think of no better day to write this post! – Today is the Solemnity of the Annunciation…when the greatest work ever done by a woman was accomplished: Fiat... [Read more...]
Contemplatives and the New Evangelization
I want to be an apostle like you, from the heart of my dear solitude. I want to work for the glory of God, and that means I MUST BE FILLED WITH HIM." (Bl. Elizabeth of the Trinity, Letter to a priest, June 22, 1902) One of my duties is to go grocery shopping each week. Our local grocery store is chock-full of wonderful people, many of whom... [Read more...]
Listen, Decide, Act
On June 1, 2013, Pope Francis offered a reflection on the Visitation.  Again, he chose three words to sum up Mary's attitude as she prepared to visit her cousin Elizabeth: LISTENING DECISION ACTION Pope Francis went on to say that these same words "show us the path before us of what the Lord asks of us in life." Corpus Christi 2013 –... [Read more...]
Louder, I can't hear you!
Fr. John Auther praying the Litany of Loretto after the May Crowning, 2013 I enjoy reading all of Pope Francis' homilies, his talks, EVERYTHING!  But I must admit, that – thus far – my favorite is the homily he gave at Sts Elizabeth and Zechariah Parish in Rome.  His homily was particularly directed toward the children who were making... [Read more...]