Advent Photo Update
Advent is concerned with that very connection between memory and hope which is so necessary to man. Advent's intention is to awaken the most profound and basic emotional memory within us, namely, the memory of the God who became a child. This is a healing memory; it brings hope. The purpose of the Church's year is continually to rehearse her great... [Read more...]
O Lord, I am Your Servant!
One of the things that I love to meditate on are the many paradoxes of our Catholic faith, because they are not what they seem to be at first glance, and if you would understand them you must take the time to look more closely. Understanding paradoxes require a disposition like Our Lady who with patience and openness, "pondered in her heart". I... [Read more...]
Grateful and Longing Hearts
You turkeys! We were blessed to have Fr. Bob Reddy from Canada and Sr. Genevieve, OSB join us for our Thanksgiving festivities! A belated happy Thanksgiving to you!  We hope your day was filled with much joy, as was ours.  Thanksgiving gives us a great opportunity to reflect with gratitude on our many blessings.  And there are so many!  Enjoy some... [Read more...]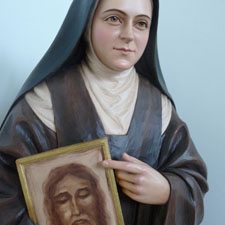 A Lever and a Fulcrum
"Archimedes said: 'Give me a lever and a fulcrum, and I will raise the world.' What he was unable to obtain because his request had but a material end and was not addressed to God, the Saints have obtained in full measure. For fulcrum, the Almighty has given them Himself, Himself alone! For lever, prayer, which enkindles the fire... [Read more...]
Eternal Youth
Visitors here, Visitors there, Visitors everywhere!We were blessed to have lots of visitors the last few weeks. Sr. Genevieve Glen, 4 PCPAs from TX, 2 CFRs (Fr. Gabriel and Br. Seamus), Fr. Jim Parker, and a Partridge in a Pear Tree! "Nothing assures and establishes 'eternal youth' (in the most literal sense of the word) as does the... [Read more...]
Receiving with Thanks
Growing up in the 'country', sharing garden vegetables was as much a part of summer as swimming, picnics, and road trips!  Whatever our garden produced, we shared with neighbors and cousins.  And it was a two way street! Zucchini, tomatoes, peas, green onions, berries – whatever anyone's garden produced, the whole neighborhood... [Read more...]
O Come, O Come Emmanuel!
This blog is going to be a bit of a mish mash of this and that!  So, on your mark, get set, let's blog!!! Wish List:  Firstly, as you may have noted, we recently posted a wish list.  More recently, we added a link to the Moon Valley Nursery site, with a customized Wish List of some of the larger landscaping needs!  Here is the link: Moon Valley... [Read more...]
Happy Thanksgiving
It's hard to believe that it is already Thanksgiving!  We hope and pray that you and your family have a very blessed day of gratitude and joy.  We will be celebrating our first Thanksgiving in Tonopah.  Since entering the Monastery (for many of us that was about 15 years ago), we have celebrated Thanksgiving with our dear priest friends from... [Read more...]
Fr. Mariusz
Happy Feast of Our Lady of the Angels! This past week we were blessed to have a visit from Fr. Mariusz, Fr. Leo, and Fr. Gabriel, Franciscan Friars of the Renewal — the men in gray. Fr. Mariusz is celebrating his fortieth anniversary of Ordination to the Priesthood this year (in conjunction with the Year for Priests), so we threw him a little... [Read more...]
Advent Anticipation and Aspiring
Grace and Peace! Hello all. Things have just been hopping around here. From birthdays to building projects and everything in between, I have let too much time slip away with out posting some news for you all. Hmmm, where should I start? Just in case you have not seen the website, we have officially begun Phase I of our construction project. (Yahoo!!)... [Read more...]