"With confidence, tell the Madonna and her son Jesus about your expectations, your hopes, your joys and your sufferings, and trust in the help of Jesus and the support of Mary." – Pope Francis
Mark your calendars and please plan on joining us…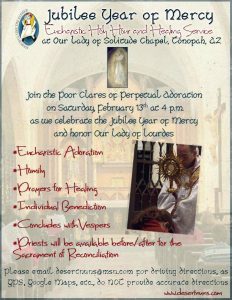 To celebrate the Jubilee Year of Mercy and to honor Our Lady of Lourdes, we will be hosting a Eucharistic Holy Hour/Healing Service here at Our Lady of Solitude Chapel.
WHEN: Saturday, February 13th @ 4 p.m.
There will be time for silent Eucharistic Adoration, the recitation of prayers for mercy and healing, a homily, individual benediction (those who wish may kneel at the altar rail and Father will bring the the Most Blessed Sacrament to you individually – then after a few moments will give bless you), and will conclude with the praying of Vespers.  Priests will be available for the Sacrament of Reconciliation, both before and after the Holy Hour.
We chose this date (Feb. 13th) because it is the Saturday closest to the celebration of Our Lady of Lourdes.  As some may know, many many folks have gone to Lourdes seeking a miraculous healing.  And, in fact, there have been countless healings there, through the intercession of Our Lady of Lourdes.  And so to honor her and in petition for whatever healing we desire (be it physical, emotional, psychological, healing of memory, etc) – during this Jubilee of Mercy – we will approach Jesus' Heart of Mercy in the Most Blessed Sacrament, and counting on the intercession of Our Lady of Lourdes!
Help us spread the word, by downloading this pdf flyer for the event  and sharing it with your friends!  (This is a low res version…if you would like a printable version, kindly inquire via the contact page and we will send it to you)