A Living Sacrifice to God
Bishop Thomas J. Olmsted's Homily
for Sr. John-Mark Maria's Final Profession
12 December 2016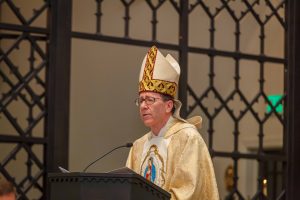 "I wish only to comply with the desire of my soul to be united with Our Dear Savior Jesus Christ through Holy Religious Vows. I desire to make Perpetual Vows today in the presence of the whole Heavenly Court and into your hands, Reverend Mother."
Only a woman who loves would say these words; only a woman who knows that some One loved her first, One who courted her soul, led her into the desert and captured her heart, One who is Love Himself, One who promises her a share in the Cross each day and in the everlasting joy of the Kingdom of heaven.
Love is the only thing that makes religious vows credible: the love of Jesus filling a human heart and, in turn, that human heart returning with joy this love to the Beloved.
When God calls a woman to Religious life, His words spoken through the Prophet Hosea (2:21f) take on new meaning for her. The Lord says to her, "I will espouse you to me forever. I will espouse you in right and in justice, in love and in mercy, and you shall know the Lord." When the Lord calls a woman to Religious Life in Arizona, she also hears Him say (Hos 2:16f), "I will allure her, I will lead her into the desert and speak to her heart." This is the beautiful mystery we are witnessing today, a mystery wrapped in the rich mercy of God.
Recently Pope Emeritus Benedict was asked: "Where have you felt love, tasted love, experienced love with profound feelings?" He answered, "I felt it first at home with my father, my mother, my siblings… I have been touched by it in different dimensions and forms. To be loved and to love another are things I have increasingly recognized as fundamental, so that one can live; so that one can say yes to oneself, so that one can say yes to another. Finally, it has become increasingly clear to me that God is not, let's say, a ruling power, a distant force; rather He is love and He loves me—and as such, life should be guided by Him, by this power called love" (BENEDICT XVI, Last Testament, pp 241f).
Over the past several months, a new pipe organ has been installed at our Cathedral of Saints Simon and Jude. At the very peak of this amazing instrument that stretches to the highest point of the choir loft, above more than 4000 pipes, there is something that almost no one ever notices. It is an intricate design in tribute to the women Religious who have served Christ faithfully for more than 60 years at our Cathedral. Its purpose, like that of the Sisters of Loreto themselves, is not to draw attention to itself but to be something beautiful for God. Such is the hidden life of Poor Clare Nuns. It's like the exquisite Corinthian capitals that adorn the tops of the graceful columns of Notre Dame Cathedral in Paris. Almost no one notices them except the Lord. That's how they were intended by the artist: in a hidden but very real way to be a constant expression of love for the Beloved, to be something beautiful for the Bridegroom of the Church, Jesus.
In this way, the exhortation of St. Paul to the Romans is fulfilled (Rom 12:1f); he writes, "I urge you…by the mercies of God, to offer your bodies as a living sacrifice, holy and pleasing to God, your spiritual worship. Do not conform yourself to this age but be transformed by the renewal of your mind, that you may discern what is the will of God, what is good and pleasing and perfect."