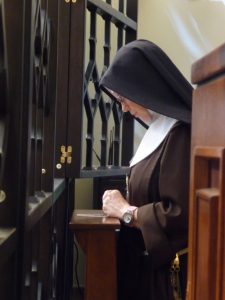 The Solemnity of St. Joseph in the Jubilee Year of Mercy – March 19, 2016 – will go down in our history as a truly monumental and grace-filled day. For our community, now fully autonomous and beginning our first steps with our Abbess, Reverend Mother Marie André, these are exciting days, filled with hope, promise, and an outpouring of the gifts of the Holy Spirit.
The ceremony of the Installation and blessing of the Abbess took place before the final blessing
of the Mass. The Bishop, in the name of the Holy See declared Mother Marie André canonically appointed and then intoned the Te Deum, which is an exultant hymn of praise and thanksgiving.
The Bishop then blessed the cros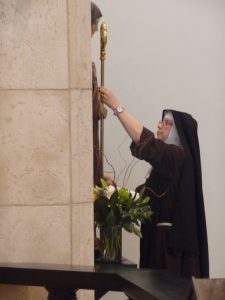 ier of Our Holy Mother Clare and entrusted it to Mother Marie André, proclaiming her to be invested with the full authority of her office. Then Mother Marie André received each of the nuns, as they rendered to her their obedience by placing their hands within her own. After the Bishop blessed Mother Marie André, she returned the crosier to Our Holy Mother Clare and offered a few words of thanks to all who had gathered to celebrate! From start to finish, it was a truly blessed and glorious day!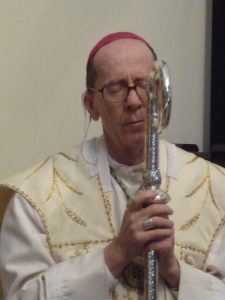 Priests, Religious, family and friends from near and far packed the Chapel for this historic day!  Thank you too for remembering Mother Marie André in your prayers as she assumes this role and responsibility.
A particular word of thanks to our beloved Bishop Thomas Olmsted, who has accompanied us every step of the way, with his wise, fatherly, and strong presence.
Click here to read Bishop Olmsted's Homily