"We cannot bring to the world the Good News which is Christ himself in person if we ourselves are not deeply united with Christ, if we do not know him profoundly, personally, if we do not live on his Words." – Pope Emeritus Benedict XVI
"Christ lived for thirty years in silence. Then, during his public life, he withdrew to the desert to listen to and speak with his Father. The world vitally needs those who go off into the desert. Because God speaks in silence." – Cardinal Robert Sarah, The Power of Silence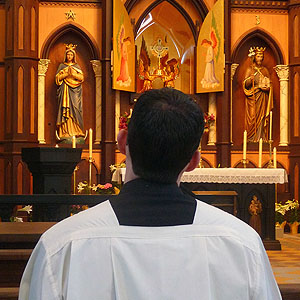 It is the special charism of our Foundress, Mother Marie St. Clare, to have a particular love and respect for the holy priesthood. As her daughters, we carry on her love through our prayers and sacrifices for priests. And now, to further this, we are offering a place of retreat for priests at Our Lady of Solitude in Tonopah, Arizona.  We are pleased as well to welcome deacons, seminarians, and consecrated religious to Angelica Guest House.
The remote location of the Our Lady of Solitude allows for much solitude and silence.  Many visitors comment that it is so quiet here that one can almost "hear" the silence. Retreatants will have an opportunity to enter deeply into this solitude and prayer with Our Lord.
"Through silence, we return to our heavenly origin, where there is nothing but calm, peace, repose, silent contemplation, and adoration of the radiant face of God." – Cardinal Robert Sarah, The Power of Silence
– photos of guest house coming soon –
Open to priests, deacons, seminarians and consecrated religious in good standing with their diocese/religious community who would like to make a private and silent retreat. For priests, a celebret card is required or a letter from your diocesan vicar of clergy.
 Accommodations are provided in Angelica Guest House – a 9 bedroom retreat house complete with a full kitchen, laundry facilities, several indoor and outdoor sitting areas, small library with areas for writing or study. The Guest House is just steps away from Our Lady of Solitude Chapel.
Angelica Guest House has a small private Chapel for retreatants.
Each room is supplied with a bed, linens, and comfortable chair.  Every two bedrooms share a full bathroom.
The pantry is stocked with breakfast, dinner, and snack foods.
Angelica Guest House lends itself well to Jesu Caritas Priest Support Groups or Religious Communities looking for a place for fraternal time and prayer.
Areas are available near Our Lady of Solitude to hike and bike
As we live over 1 hour from Phoenix Sky Harbor Airport, we ask that – when booking your airline flight – it arrives no later than 5 p.m.  After scheduling your retreat, we will email you precise driving directions to the Monastery.  GPS and all online direction services do not provide accurate directions
Donations for accommodations are requested, although there is not currently a fixed fee.