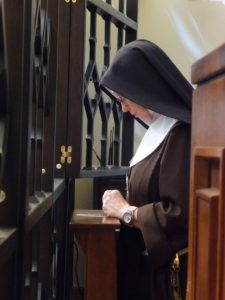 We are able to live this beautiful life of Adoration and Intercession for the world because of the generous donations that we receive each day.  We are completely dependent on the Providence of God to provide for our needs.  This Providence comes to us through the goodness of His children.  By supporting the Poor Clares of Perpetual Adoration of Our Lady of Solitude, you help us to provide this Oasis in the Desert – a place of peace, solitude, healing and renewal.  We remember our living and deceased benefactors each day in our Communal Rosary.
Ways to Donate
Donate by Credit/Debit Card Online:
Gifts may be received online by credit card via Pay Pal. You DO NOT need a Pay Pal account to make a donation.
Donations toward the general Monastery Fund (which is used for living expenses) may be made using the "Make a Donation Button" on the top right of this page.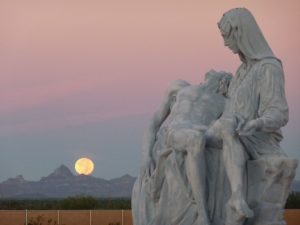 Donate by Check:
Cash, Money Order, or Check may be mailed to:  Our Lady of Solitude Monastery, PO Box 639, Tonopah, AZ 85354.  Please make checks payable to Our Lady of Solitude Monastery
Donate by Gifting:
Amazon Wish List Link
(please note: we would like to thank you for the gifts sent to us via our Amazon Wish List, however the Giver's name is not always noted on the invoice.  Please send us an email and let us know what gift you gave so that we may properly thank you.  Or, if you prefer to remain anonymous, know our gratitude!)
Also gift cards to Fry's Food Stores, Lowes, Amazon, Etsy, Costco, and Staples are greatly appreciated!