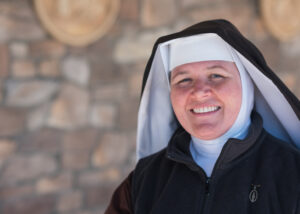 Since 2002, I have been blessed to do vocational work for our community. And, if I've learned anything during this time, it's that each and every vocational journey is unique. And my own journey attests to this fact. "You did not choose Me.
I chose you."
I am blessed with very loving parents and one older brother who is also the dearest of friends. I was born in rural Pennsylvania and lived there until my dad was transferred to Birmingham, AL. I was 16 years old at the time. Moving to Birmingham was the last thing I wanted to do. Yet now I see so clearly that this move was very much an integral part of my story. We do have a providential and loving Father!
Though I grew up "Catholic", I did not live my faith. I did not know the Lord. But there I was 16 years old, far from everything I knew and loved, and feeling very much alone. It didn't take long for me to realize that I needed a friend. And more than a friend, I needed a Savior! I found myself wondering about God, thinking about Him, about His Love, about Heaven. Now, years later, I give thanks to God for that experience of loneliness which opened my heart to His love and His Will. I gradually, and quite naturally, started praying. "You did not choose Me. I chose you."
At this time as well, my mom began to have a 'reversion' to the faith. She returned to the Sacraments and began spending a lot of time in Eucharistic Adoration and volunteering at a local monastery gift shop. The monastery is none other than the Our Lady of the Angels Monastery – the one I would eventually enter when I became a Poor Clare of Perpetual Adoration (PCPA).
During Spring Break of my junior year, mom coerced me into volunteering some of my time in the monastery gift shop. I did so a little grudgingly! Yet during that week the Lord drew me to the Chapel like a moth to a flame. In that blessed little Chapel Our Eucharist King was solemnly exposed. By the time Spring Break was over, I was changed and the peace I encountered at the monastery left me longing for more! So I began going there in search of that peace. This seeking after peace (and the eventual finding of the Prince of Peace) was the sure remedy for that nagging loneliness. When I was in that Chapel, I knew that I was not alone.
Shyly, I would watch the others who came to make a visit to the Blessed Sacrament and I would attempt to imitate them. To be honest, I was quite ignorant of the truth about the Real Presence. Though I grew up Catholic, I was not very well catechized. I had no idea why I genuflected, knelt, stared at the monstrance, or piously recited any prayers I could think of over and over again. While I didn't know how or why or who, I did know that quite inexplicably my heart was changing. "You did not choose Me. I chose you."
Eventually I discovered the truth about the matter. And the day I learned the truth about the Holy Eucharist was the day that I experienced the first inkling of my call to be a Bride of Christ. The day, the moment, and the grace are still tangible to me nearly 20 years later. After being drilled at school about when I believed as a Catholic, I came home with lots of questions about the Church and about Jesus. My mom answered my questions clearly and simply. It was then that she told me that Jesus was Truly Present in the Most Blessed Sacrament. When she said it, I knew it was true. I went to my room and said this little prayer: "Lord, if you have given Yourself so totally to me in the Blessed Sacrament, then I must give myself totally to You in the Religious Life." "You did not choose Me. I chose you."
Two years passed between that day and the day I actually entered the Poor Clares of Perpetual Adoration at Our Lady of the Angels Monastery. During those years, I spent a lot of time in Eucharistic Adoration. I took full advantage of living near Eternal Word Television Network (EWTN), by attending the LIVE SHOWS and learning about my newly discovered Faith.
By the time I was a freshman in college, an English major attending the University of Montevallo, the ever-present desire to belong fully to Christ continued to grow. That little spark that was lit in my soul had become an immense flame and it was all consuming. It was impossible to ignore. And the fact is, I didn't want to ignore it! It was the very source of my joy, my hope, and my love. "You did not choose Me. I chose you."
And so finally one day, after a lot of prayer, I mustered up the courage to speak with the Abbess of Our Lady of the Angels Monastery, Mother Angelica, about all that was passing in my heart. Mother recognized this and allowed me to enter as the Order, at the age of 19, on September 8, 1995. I was blessed to begin my Religious Life at Our Lady of the Angels Monastery, in the very Chapel where I met Jesus face to Face in the Holy Eucharist.
Since then that flame has continued to grow! On August 2, 2003, at Our Lady of the Angels Monastery in Hanceville, AL, I professed my Solemn Vows as a Poor Clare of Perpetual Adoration. A few years later in May 2005, I was blessed to be part of a new foundation of PCPA's in the Diocese of Phoenix Arizona. Now I have the great honor of helping to establish this new Eucharistic Throne at Our Lady of Solitude Monastery in Tonopah, AZ.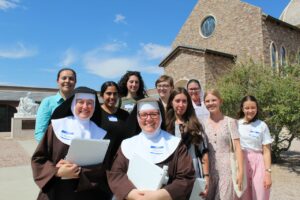 I continue to work with vocations for our community here and have the added joy of working with those in initial formation. It is a great honor and joy to journey with these young women who are experiencing a desire to return love for Love. Accompanying these young women, nurturing the call, and watching it come to fruition is a glorious exercise in the spiritual maternity to which I am called to as spouse of Christ. "You did not choose Me. I chose you."
Adoring Christ for those who do not know Him, remaining 'hidden with Christ in God', interceding for souls in need of healing and conversion, praying for the needs and mission of all Priests, standing in the breach between heaven and earth: these are just a few ways that the Lord asks PCPAs to return love for Love.