Dear contemplative sisters, without you what would the Church be like, or those living on the fringes of humanity and ministering in the outposts of evangelization? The Church greatly esteems your life of complete self-giving. The Church counts on your prayers and on your self-sacrifice to bring today's men and women to the good news of the Gospel. The Church needs you!It is not easy for the world, or at least that large part of it dominated by the mindset of power, wealth and consumerism, to understand your particular vocation and your hidden mission; and yet it needs them immensely. The world needs you every bit as much as a sailor on the high seas needs a beacon to guide him to a safe haven. Be beacons to those near to you and, above all, to those far away. Be torches to guide men and women along their journey through the dark night of time. Be sentinels of the morning, heralding the dawn. By your transfigured life, and with simple words pondered in silence, shows us the One Who is the way, and the truth and the life, the Lord Who alone brings us fulfillment and bestows life in abundance. Cry out to us, as Andrew did to Simon: "We have found the Lord."  Like Mary Magdalene on Easter morning, announce to us: "I have seen the Lord!" (Jn 20:18). Cherish the prophetic value of your lives of self-sacrifice. Do not be afraid to live fully the joy of evangelical life, in accordance with your charism." – from Pope Francis' Apostolic Constitution, Vultum Dei Quaerere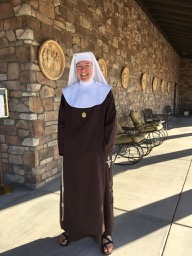 Often in the grocery store, at the doctor's office, or with visitors who find our little oasis in the desert, we are asked: "What do you do?"  And so we explain our way of life: hidden from the eyes of the world, we spend our life at the Feet of Jesus in the Most Blessed Sacrament, adoring Our Lord, thanking Him, interceding for His children.  And then comes the next question: "Yes, but what do you do?  Do you teach?"  And so we repeat: hidden from the eyes of the world, we spend our life at the Feet of Jesus in the Most Blessed Sacrament, adoring Our Lord, thanking Him, interceding for His children.  Still the puzzled look…  "OK, well, have a nice day." 
In July 2016, Pope Francis released a new Apostolic Constitution for women's contemplative life: Vultum Dei Quaerere.  Just like our way of life, this document was released with very little press coverage and with very little notice.  In this little article, we want to highlight some of the excerpts from this document and thank Pope Francis for expounding on the BEAUTY of the contemplative life.  So I pray that this short article will at least do that!
Part of the document was providing a new set of norms – and we await further direction in this regard from the Sacred Congregation as noted in the document itself.  The remainder of the document set forth to offer both encouragement to contemplative women, as well as setting forth a sort of catechesis for those unfamiliar with our way of life.
Peter's words, "Lord, it is good for us to be here!", have a special meaning for all consecrated persons. This is particularly the case for contemplatives. In profound communion with every other vocation of the Christian life – all of which are "like so many rays of the one light of Christ, Whose radiance brightens the countenance of the Church" – contemplatives "devote a great part of their day imitating the Mother of God, who diligently pondered the words and deeds of her Son, and Mary of Bethany, who sat at the Lord's feet and listened attentively to His words."  Their lives, "hidden with Christ in God", become an image of the unconditional love of the Lord, Himself the first contemplative. They are so centered on Christ that they can say with the Apostle: "For to me, to live is Christ!". In this way, they express the all-encompassing character at the heart of a vocation to the contemplative life."
Pope Francis expounds as well on how contemplatives occupy a very particular place in the life of the Church an in the world:
Contemplatives, as men and women immersed in human history and drawn to the splendor of Christ, "the fairest of the sons of men", are set in the heart of the Church and the world.

As a further means of anchoring this point, he adds:
Communities of prayer, especially contemplative communities, which "by virtue of their separation from the world are all the more closely united to Christ, the heart of the world", do not propose a more perfect fulfillment of the Gospel.  Rather, by living out the demands of Baptism, they constitute an instance of discernment and a summons to the service of the whole Church.  Indeed, they are a signpost pointing to a journey and quest, a reminder to the entire People of God of the primary and ultimate meaning of the Christian life.
That is our work.  To stand as a signpost that points to the reality of God's Love, a Love that is worth it all!  By our separation from the world and our embracing of the One thing necessary, we offer a prophetic witness to the ultimate meaning of the Christian life.  This meaning is so easily blurred in the busyness of the world.  That's where our hidden life becomes a beacon of hope and a reminder of the primacy of God's Love.
Your life of complete self-giving thus takes on a powerful prophetic meaning. Your moderation, your detachment from material things, your self-surrender in obedience, your transparent relationships – these become all the more radical and demanding as a result of your free renunciation "of 'space', of contacts, of so many benefits of creation… [as a] particular way of offering up your 'body'".  Your choice of a life of stability becomes an eloquent sign of fidelity for our globalized world, accustomed to increasingly rapid and easy relocations, with the risk that many persons never sink roots in any one place.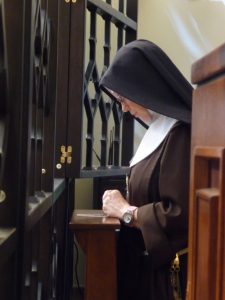 The witness that the Lord has called us to offer to the world is a hidden one – and must be – or it ceases to be an authentic witness of what is aforementioned.  Each of us are called to give a very particular and unique prophetic witness: priests, hermits, consecrated virgins, widows, active order religious, fathers, mothers, children, grandparents, and on and on!  Let us cry out – one to another, in a communion of love: LET US BE WHO WE ARE!  As we grow in our understanding of each unique witness, our hearts expand with wonder and appreciation of the vastness of God's Heart that would establish this diverse tapestry of grace.  So yes, each to the other in mutual up-building, let us proclaim: "Let us be who we are!"
Who we are as contemplative women religious was revealed to the world in this document from the Holy Father!  This document also provided a reminder and a deepening appreciation of the Beauty that allured each of us to leave the world behind, to knock on the door of our monastery, to lay down our life,  and to pour out the 'costly ointment' of our life solely for the Lord.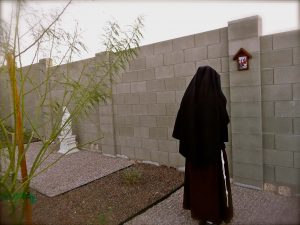 Our work is to do what "woman" is made to do: Receive! (our hearts ever attentive and receptive to God's Love – thus allowing this love to overflow upon a world so in need)!  Our work is Adoration (to adore Him for those who do not adore Him); our work is intercession (united to our brothers and sisters near and far, we lift them up to the Lord through our prayer and sacrifices, by the limitations -both of contacts and space- that we have embraced as part of our sacrifice of praise); our work is surrender (thus becoming a prophetic witness to God's faithfulness and love…truly He is worth of trust); our work is love (whether scrubbing a toilet or cooking dinner, we say with our life: "God is enough"); and finally – our work is conversion (personal, daily, often times 'dropping us to our knees metanoia', trusting that our own conversion process is meriting graces for souls most in need of God's mercy).
Our way of life is counter to the utilitarian culture in which we live.  That very fact makes it all the more necessary.