Come and adore Our Eucharistic King at Our Lady of Solitude Chapel and join the Nuns in giving thanks to Our Eucharistic King for the completion of their new Monastery.

The Chapel will remain open to pilgrims throughout the entire Forty Hours.  Celebrated by Fr. Declan Gibson, Missionary of the Most Holy Eucharist.

Friday, Dec. 10th – Holy Mass at 4 p.m. After Mass, Solemn Exposition and Eucharistic Adoration will begin and continue until Mass the next day.
Saturday, Dec. 11th – Holy Mass at 8 a.m.  After Mass, Eucharistic Adoration will continue until Mass the next day.
Sunday, Dec. 12th – Holy Mass with Eucharistic Procession at 9 a.m.

Opportunities to receive the Sacrament of Reconciliation will be available throughout the Forty Hours.

Please check back for schedule of when guided meditations will be offered during the course of the Forty Hours Devotion

Want to learn more about Forty Hours Devotion?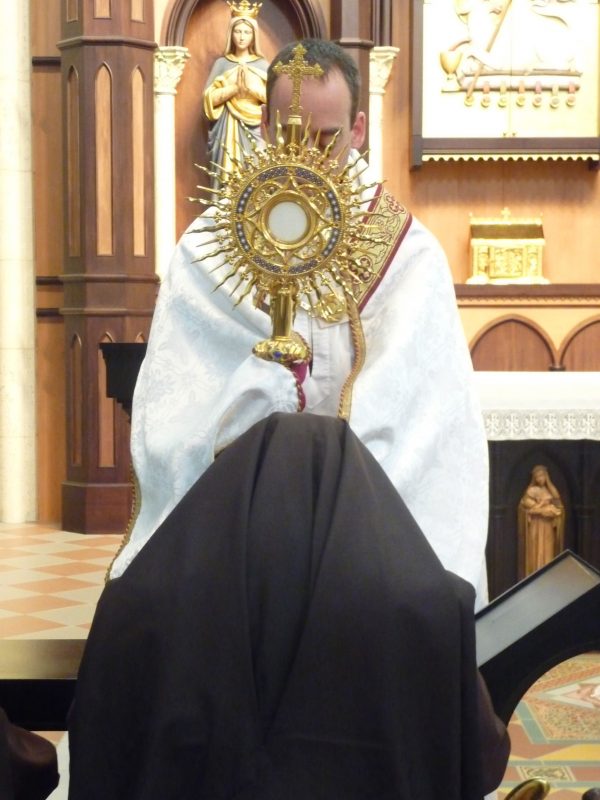 "May we never tire of discovering that the Eucharist is the source and summit of Christian life! As from the source of a great river, everything that matters in life flows from it. As to a great mountain peak, all the striving and struggle of life seeks it." – Bishop Thomas J. Olmsted