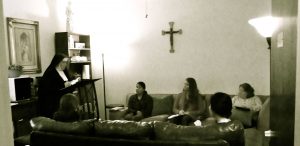 Solitude and Service Day Parishes, schools or youth groups are invited to schedule a Solitude and Service Day for the young ladies in their parish.   Suggested ages for such a day are young people between the ages of 18-35.  According to the current needs of the monastery a service project will be chosen, and the remainder of the day will be spent in prayer and fellowship.  Email Sr. Mary Fidelis for more information on how to begin to organize a Solitude and Service Day with PCPAs
Come and See  (A day of prayerful discernment with the Nuns)
The Come and See days are scheduled according to need. Locals parishes or schools are invited to contact us to arrange a day to bring out high school or college age women. Or if you are a local young lady who would like to experience a Come and See Day of Prayer, please contact Sr. Mary Fidelis to learn when the next Come and See is scheduled so you can join in. Due to limited space, we ask that each Come and See retreat have no more than 20 participants.
Sample Schedule for "Come and See" Days of Prayer
(can be adjusted to the needs of the group or school)

10 a.m. Holy Mass
11 a.m. Introduction and Tour
11:30 p.m. Divine Office (Daytime Prayer) and Divine Mercy Chaplet with the Nuns
12:00 p.m. Lunch (pls bring your own bagged lunches)
1 p.m. WHAT IS VOCATION?
1:30 p.m. WHAT IS DISCERNMENT?
2 p.m. Coffee Break
2:30 p.m. WHO ARE THE PCPAs?, followed by Q&A time
3:30 p.m. Eucharstic Adoration
4:30 p.m. Depart
If you are an individual interested in joining in with a Come and See Day or a Solitude and Service Day, please feel free to email Sr. Mary Fidelis .  Or to learn of any upcoming vocation events…please send Sister an email!

 "Are we not perhaps all afraid in some way? If we let Christ enter fully into our lives, if we open ourselves totally to Him, are we not afraid that He might take something away from us? Are we not perhaps afraid to give up something significant, something unique, something that makes life so beautiful? Do we not then risk ending up diminished and deprived of our freedom? And once again the Pope said: No! If we let Christ in to our lives, we LOSE NOTHING, NOTHING, ABSOLUTELY NOTHING of what makes life free, beautiful and great. No! Only in this friendship are the doors of life opened wide. Only in this friendship is the great potential of human existence truly revealed. Only in this friendship do we experience beauty and liberation. And so today, dear young people: DO NOT BE AFRAID OF CHRIST! He takes nothing away but give you EVERYTHING. When we give ourselves to Him, we receive a hundred-fold in return. Yes, open, open wide the doors to Christ and you will find TRUE LIFE." – Pope Benedict XVI