A Fence, Some Shade, and Lots of People
For the past few months, there has been much going on in way of site improvements!  The most significant is an enclosure fence around the perimeter of the property.  For years this fence has been the constant refrain of our prayers – and now…it is in place and looks WONDERFUL!  The remaining portion of the actual enclosure demarcation will be installed after the construction of the monastery is complete.  Enjoy a pic of our beloved fence 🙂
We also had two pergolas installed to help make some areas of shade to bring some relief from the AZ sunshine.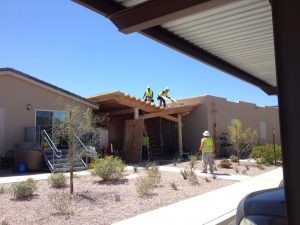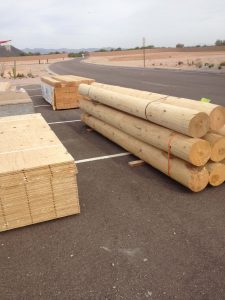 Soon we will add some additional shaded areas to provide a picnic area for guests and retreatants.
Speaking of which, Lent has brought us many visitors.  In addition to the normal flow of people who come to be refreshed at our desert oasis, we had groups come for desert days every weekend in Lent.
Most recently Fr. Don Kline brought out a wonderful group from his parish, St. Joan of Arc, as well as a LARGE group (in super snazzy charter bus) from Mar Abraham Parish (Chaldean Catholics) in Scottsdale.  We look forward to welcoming Fr. Matt Lowry and the NAU Lumberjacks this weekend!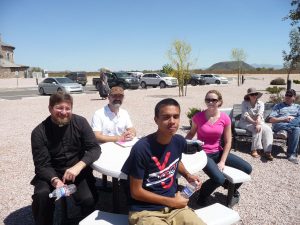 In order to better accommodate these guests, again we are making a picnic area and trying to begin to furnish the shaded areas with comfortable, durable commercial grade outdoor seating.   And so once again we turn to ask for your generosity to assist us in this endeavor.  We've begun to place these items on our Amazon Wishlist, in case you are interested.  We guarantee they will be put to good use!  Thank you.
Let us remain united in prayer as we prepare continue the journey of Lent and prepare for Holy Week!