Have a Beefsteak!
Your intentions were remembered during the St. Francis Novena Truth be told: Pope Francis delights me. And he challenges me. And he encourages me to go beyond my comfort zone – way beyond my comfort zone. When I read his homilies and addresses, I sense the Spirit not only moving, but shaking things up within me.  And that can be scary (and a... [Read more...]
Listen, Decide, Act
On June 1, 2013, Pope Francis offered a reflection on the Visitation.  Again, he chose three words to sum up Mary's attitude as she prepared to visit her cousin Elizabeth: LISTENING DECISION ACTION Pope Francis went on to say that these same words "show us the path before us of what the Lord asks of us in life." Corpus Christi 2013 –... [Read more...]
Louder, I can't hear you!
Fr. John Auther praying the Litany of Loretto after the May Crowning, 2013 I enjoy reading all of Pope Francis' homilies, his talks, EVERYTHING!  But I must admit, that – thus far – my favorite is the homily he gave at Sts Elizabeth and Zechariah Parish in Rome.  His homily was particularly directed toward the children who were making... [Read more...]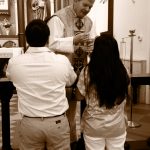 Easter at Our Lady of Solitude
We hope you enjoy a glimpse into our celebration of the Sacred Triduum and Easter!  And the celebrations continue through the Octave and right up to Pentecost!  And we have much to celebrate!  He is Risen as He promised, Alleluia! with Easter prayers from all the Nuns… Easter means that the love of God is stronger than evil and death itself;... [Read more...]
To Walk, To Build, To Witness
Surprised? Ya, just a lil!!! Before getting to the crux of this blog post, we wanted to share a few photos of our wonderful group of St. Patrick's day visitors!  Sr. Tara's mom and Uncle Norm from Buffalo came out to visit, along with Bishop James Wall and Fr. Fred Adamson. Bishop Wall and Fr. Fred are both really good at 'surprises'. ... [Read more...]
Rumination Results
This is a follow up to our "Habemus Papam!" blog, where all the Sisters offered their reflections on the new Holy Father.  Sr. Tara needed some extra time to ruminate.  Drum roll please…here's her rumination results: "Francis?… Francis… Francis!… FRANCIS!!! I am moved most by the fact that our new Vicar... [Read more...]
Habemus Papam!
Many of us, no doubt, will remember the exact place we were when the white smoke billowed out of the chimney of the Sistine Chapel.  You may be wondering: "What were the Poor Clares doing when it happened?"  We were doing exactly what contemplatives ought to be: PRAYING!  Our daily Mass was scheduled for 10:30, but was delayed until 11. ... [Read more...]
Pope Emeritus Benedict XVI and the Grey Havens
So many things could be said as this historic day comes to a close. What I find lingering in my heart, though, are the very last pages of J.R.R. Tolkien's Lord of the Rings. "Go in peace," Gandalf says to Sam, Merry and Pippin as he and Frodo prepare to sail into the West. "I will not say: do not weep; for not all tears are an... [Read more...]
Contemplative Solidarity
When news reached us that our beloved Holy Father, as of February 28th, would resign from his ministry as Successor of St Peter, we were all stunned.  I had to keep repeating it to myself in order for it to become a reality: "OK, the Holy Father is resigning because he feels that his strengths, due to an advanced age, are no longer suited to... [Read more...]
Truth by Light of the Moon
This morning as I read through Our Holy Father's address at his Wednesday Audience by the light of the moon, I was utterly amazed (by the moon and by our awesome Pope):  "Gulp.  Wow.  This is truth.  Poignant.  YES!  This is fruitfulness." These were just a few of my thoughts.  They followed in succession, but with long lulls... [Read more...]