NEW Stained Glass Windows Video!!!!!
On October 11th, all of the remaining Saint windows were installed in the Chapel.  It is simply incredible.  For all of you native Phoenicians, make the trek to Tonopah to see them in person!  It is quite a glorious sight.
We extend our sincere thanks to each and every donor who made these windows possible.  Kudos to Bovard Studios for their excellent work!  And kudos as well to our own Sr. Marie St. Paul for all of her hard work in assisting with design, proofing, brainstorming, etc!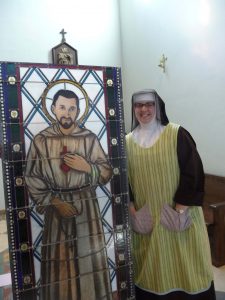 The following windows were installed:
St. Agnes of Assisi, St. Junipero Serra, St. Kateri Tekakwitha, St. Teresa Benedicta (Edith Stein), St. Maximilian Kolbe, St. Gianna Beretta Molla, St. Therese of Lisiuex, Bl. Charles de Foucauld, Bl. Pier Giorgio Frassati, Bl. Teresa of Calcutta, Bl. John Paul I